Reserve Trolleys in Chicago for Events, Weddings, Group Outings,
and Special Occasions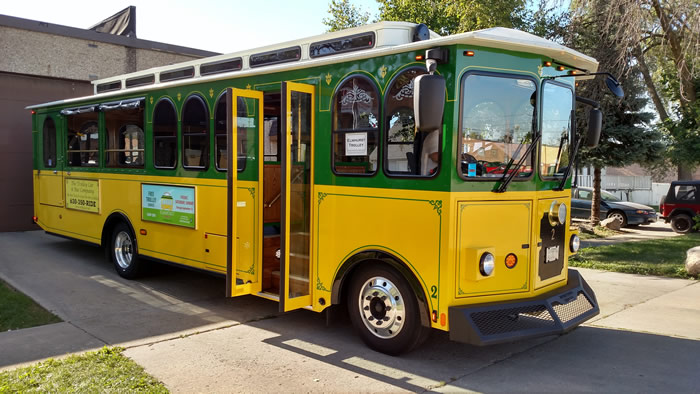 Family Owned & Operated Since 1998
Rent a Trolley or Bus for Your Next Event
Since 1998, The Trolley Car & Bus Company has been making special events, tours and business transportation more thrilling than ever before with our elegant Chicago trolley rentals and luxurious bus rentals. Whether you are celebrating a wedding or hosting a work event, our Chicago trolley rentals will thrill guests and delight colleagues with their timeless charm and professional comfort!
Each vehicle is tailored for a responsible atmosphere for your event, gathering or commute. And, our professional driving staff and their attention to detail help create the ideal experience for you and your guests.
Are you ready to bring excitement to your next event? Choose one of our elegant and timeless Chicago trolley rentals or a modern bus rentals for your next event! Be our guest! Contact us today at (630) 350-7433.
Trolley Rentals in Chicago
What better way to enjoy your event or attend a special event than a Chicago trolley rental? Trolley cars offer the perfect blend of satisfying comfort and flexibility with an atmosphere for just about any event. Our guests rent our Chicago trolleys for everything from birthday parties to weddings and bachelor/bachelorette parties—the options can be limitless. And, with the open air option and capability, you can keep your party together for the duration of the event, which is what makes renting a trolley so much fun!
Each trolley rental is equipped with a stereo with a CD player that can also connect media devices to help entertain your guests to get the party started! We also installed PA systems in our trolley cars to help with tours, toasts, announcements, and any other fun you might want to have. The trolley interiors are lined with classic, gleaming brass rails, beautiful oak benches and authentic Chicago trolley bells—it will leave a lasting impression on you and your guests. We love bringing unforgettable memories and special moments to life in the Chicago area. Please contact us today to be our guest and rent a trolley in Chicago for your special event!
Charter Bus Rentals in Chicago
Looking to host a special event, party or business outing in Chicago? Look no further! Through our group transportation division, we offer a full suite of transportation options from sedans and sprinters to mini-buses and full size motor coaches to rent for tours, guest transfers and professional conferences or outings. The comfort of luxury buses is what makes it a popular choice by event planners and travel assistants. Whether you have a group of 2 to 200+, Aries Charter Transportation can help accommodate your entire party.
Our professional and engaged drivers can even make short trips convenient and seamless—you'll have the best time! Are you interested in learning more about available trolley or bus rentals in the Chicago area?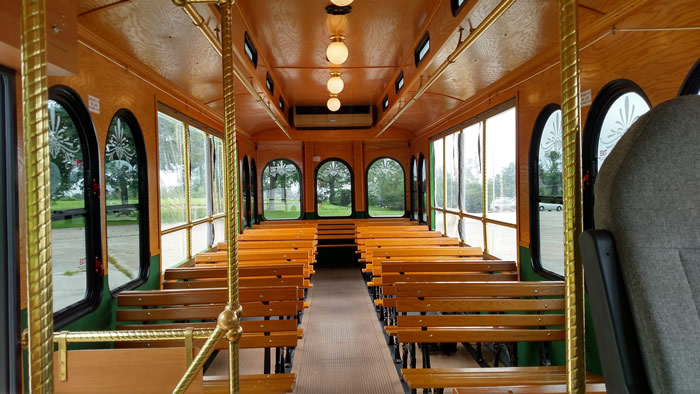 Book a Trolley for Your Next Event!
We've been proudly servicing the Chicagoland area since 1998! For tours of our beautiful city, we have intimate knowledge of the city of Chicago. However, our knowledge isn't limited to just the city of Chicago—it extends to the suburbs to quaint outdoor wedding spots and fun nightlife hangouts! Whether your event is as far north as Gurnee, as far south as Orland Park, or as far west as St. Charles, we can help make your next event or commute everything you want it to be!