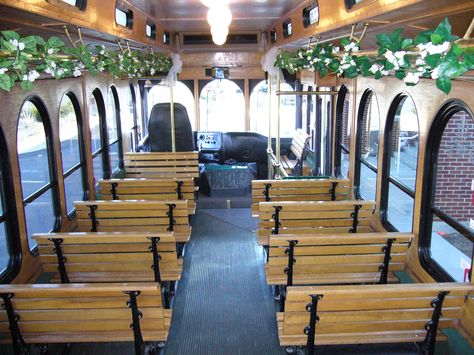 Elegant Wedding Trolleys in Chicago
When it comes to your special day, we understand how important attention to every detail is and we have made wedding trolleys our specialty!
Our wedding trolley cars and deluxe mini buses are a perfect alternative to the standard limo because, let's face it, why sacrifice your comfort on your big day? Each of our wedding trolley rentals in Chicago come complete with the capability to hold up to 35 passengers comfortable—each car is fully climate controlled to help tame the fierce Chicago weather.
Your Big Day
You've waited for this day for so long, which is why planning is key. When you are planning how you and your wedding party and family will get to the ceremony or reception, let us help.
By renting a trolley on your big day, you can ensure your entire party is with you. It also helps to eliminate the hassle of driving separately to and from the ceremony, reception and photo stops. Choose who you want with you on the trolley, when to pick everyone up and our professional drivers will handle the rest. After all, it is your day and one less thing to stress about can make all the difference. So sit back, relax and enjoy your big day.
Why Us for Chicago Wedding Trolleys?
It's simple. We supply the trolleys and you get to design the rest! We want to make sure you have the best day possible, so you can design your own itinerary based on your rental time with us. Whether we pick up the bride and groom separately before heading to the ceremony and the reception or shuttling your special guests for the night, the choice is yours. We have been proudly serving countless brides with wedding transportation since 1998 and we look forward to helping you with your transportation on your big day.
Wedding Transportation – Chicago, IL
When it comes to your big day, you want to make sure all of your loved ones are with you. We understand that transporting wedding guests can be a stressful and complex task, which is why we want to be your choice in a Chicago wedding transportation company. We offer more than just elegant trolley rentals for your Chicago wedding—we offer a catered service to help you carry out your wedding day plans without a hitch!
Our deluxe mini-coach buses are perfect for your rehearsal dinner transportation the day before your wedding and even for post reception shuttles to get all of the VIP's back and forth safely. Our formally dressed drivers can also help keep your plans on schedule with their courteous service and proactive attitudes.
If you are planning your special day and have questions about your wedding transportation needs, please contact us at (630) 350-7433 or send us a message here!